Welcome to the Official Site for Danielle Parker. You may recognize Danielle from her recurring role on the soap opera All My Children or her appearances in CSI: Miami, Love's Christmas Journey and the upcoming film Valiant. Here you will find all the news and up to date information about this talented young actress. For Industry Professionals looking to learn more about Danielle, please click on her name above for an overview of information.


NEWS & UPDATES
07 May 2013
11th Birthday
Danielle had a
fantastic
birthday this past weekend as she spent time with friends, saw
Iron Man 3
, went to
Disney
, and no birthday is complete without a cake! She was so
excited
to be turning eleven, and the birthday wishes from all of you on Facebook and Twitter helped make the day very
special
. Photos from Danielle's birthday weekend have been added to the gallery, make sure to check them out!



Posted by: Lisa
05 May 2013
Happy Birthday!
This has been quite the
exciting
weekend for Danielle! Time with family, hanging out with friends, going out to dinner, the movies, and now today she's heading off to
Disney
for a fun day and it's all in celebration of her birthday!
Happy Birthday Danielle
! I hope you have a
wonderful
birthday full of all kinds of adventures at Disney as you
celebrate
your special day. Turning eleven is going to open the doors for another
amazing
year filled with lots of excitement and opportunity. Enjoy your time with friends and family today, I hope your birthday is everything you hope it will be and all your wishes today come true.
Happy Birthday
!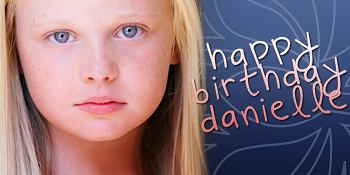 (Thanks Sarah for the banner!)
Posted by: Lisa
02 May 2013
Skype Call Winner
Congratulations
to
Jason Spitzer
who is our April winner for a
Skype call
with Danielle! If you would like to be the winner for May all you have to do is head over to Danielle's
IMDB
page, take a look at her credits and information then take the
Genius Quiz
that is on there. Don't forget to send her your score on
Twitter
or
Facebook
!
Posted by: Lisa
29 Apr 2013
Welcome Back AMC!
Today's the big day for
All My Children
! They returned with their first brand new episode on
Hulu
,
iTunes
and
FX Canada
. Danielle is so excited for her co-stars and especially for the fans. She loved being a part of the show and it holds a special place in her heart. Danielle recently took a photo welcoming the cast back and expressing her
excitement
to watch today which was also used in a
welcome back video
.
Thank-you
to everyone for your continued words of support and encouragement, the AMC fans are the best!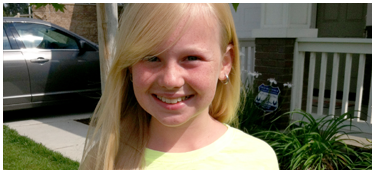 Don't forget, April is almost over, which means not much time left to try and become April's winner for a
Skype Call
with Danielle. Head on over to her
IMDB
page to take the genius quiz, then
tweet
or
Facebook
your score. Good luck!
Posted by: Lisa
<< Previous 1 2 3 4 5 6 7 8 9 10 11 12 13 Next >>